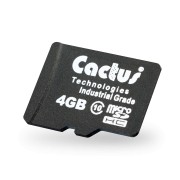 For extreme temperature, high duty cycle embedded OEM applications, Cactus Technologies is now offering an extended (-45C to 90C) operating temperature version of our Industrial Grade microSD card.
Austin, TX, January 12, 2016 (Newswire.com) - Cactus Technologies' is now offering our 803 Series Industrial microSD cards in an extended -45C to 90C operating temperature range for Extreme temperature, high duty cycle embedded OEM applications. 
The Cactus SLC microSD cards, available in capacities of 1, 2 and 4GB, have the highest reliability and endurance in the market.  Our standard offering of SLC microSD is rated at -25C to 85C. 
With some OEM embedded industrial applications requiring wider temperature ranges, Cactus has released a version of 803 Series SLC microSD which operates at the wider -45C to 90C temperature range.
Steve Larrivee, Cactus VP Sales & Mktg, commented, "Our SLC microSD cards have been extremely successful, and due to popular demand, we are now offering a wide -45C to 90C temperature version."
Each extended temp Industrial Grade microSD card is stringently tested in a production temperature chamber at time of manufacture to ensure it is fully capable of handling the additional stress of extreme temperature range.
Joseph Chang, Cactus VP Engineering, added, "Our custom designed temperature screening process allows us to make certain our Industrial micro SD cards exceed customer expectations.  If wider temperatures than -45C to 90C needed, we would be happy to discuss further with the OEM."
For over 10 years, Cactus Technologies has been supporting OEMs Worldwide with the highest reliability Industrial Embedded Flash Storage Products using industry leading controller technology and industrial strength flash memory.
Our Industrial products enable OEM's systems to operate without a fault in the harshest and most mission critical environments.  In addition, Cactus offers Commercial Grade embedded products based on MLC NAND, which have Locked-BOM and Extended Life Cycles for budget limited applications.
1 MByte = 1 million bytes; 1 GByte = 1 billion bytes; 1Gbit = 1 billion bits.
Cactus Technologies and the Cactus logo are trademarks of Cactus Technologies, Ltd., registered in the U.S. and other countries.  Other brand names mentioned herein are for identification purposes only and are trademarks of their respective holder(s).
Share: